Mall of Istanbul
Mall of Istanbul
The largest shopping center in Turkey and the second at the level of Europe, including dozens of hundreds of international brands and a lot of fun recreational activities in addition to housing, offices and hotels
What is it in details??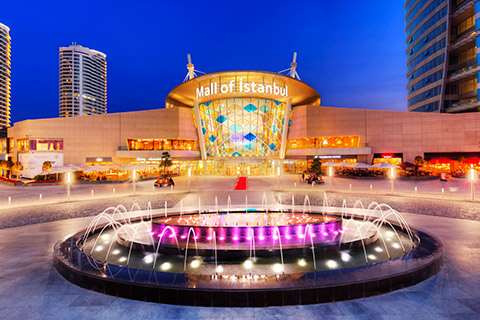 The Mall of Istanbul is located in the European section of Istanbul and is located in the famous bashakshehir area on the basen Express highway connecting TEM and Ataturk International Airport
Opened in 2014 by GYO's largest real estate investment company, the mall has 350 stores and hundreds of other services
Shopping, arts, cultural exchange and fun meet under one roof, as well as delicious foods from various international cuisines and cafes offering the best coffee and drinks around the world.
The most famous and unique theater, the largest closed theme park in the world and the largest Cintech cinema in Turkey. All these special events are in one place: the Mall of Istanbul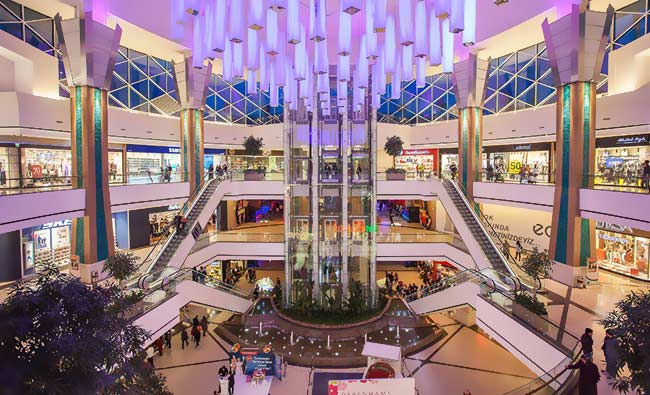 In the architectural design of the mall, the concept was derived from the structure of Istanbul, consisting of 7 hills and corresponding in the center 4 residential buildings, office building, hotel building and shopping center building
Sultanahmet and the Star Park and Park are all features included in the design of the Mall of Istanbul in addition to the high glass ceilings that allow the sun to enter always of the day, which earn visitors healthy natural light that enables them to walk comfortably and easily
The Mall of Istanbul is rated as the best mixed-use center (housing, office, hotel and shopping) in Europe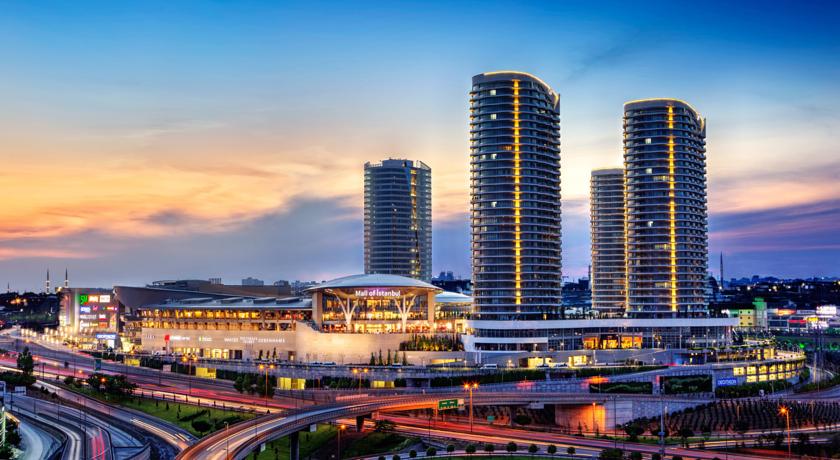 How to reach Mall of Istanbul?
1 - If you are in the area of ​​Yenikapi or Aksaray or around it, you should use the metro line M1, which ends at the station of Kirazli and then ride the free bashakshehir metro line and get off at the station iketelli .The mall will be 800 meters away and there is a free shuttle service from the metro station To the mall continuously
2. From and around the faith area, one of the bus lines 146T or 142E can be used to reach the Demirciler Sitesi station opposite the entrance of the Mall of Istanbul.
3 - If you are near the metrobus line which is the most important means of public transport in Istanbul you can reach the station Yenibosna and then use buses 98H or 78 B and access to the industrial city station itself opposite the entrance of the mall
Generally, the Mall of Istanbul opens at 10 am every day and continues until 10pm. It is worth mentioning that there are certain seasons for discounts where some international brand products are sold at very low prices for only a few hours during a specific day
The indoor amusement park offers your children a fun time with different types of games based on international standards
Also the artistic theater and the big cinema there make the Mall of Istanbul a place that never tires
The shops in which the visitor will not be able to examine them all in one day, which requires several visits to surround the beauty and diversity of these shops
The restaurant and cafeteria floor is so varied that you will never tire of going to the mall of Istanbul, no matter how often you visit it
It is known that most visitors Mall of Istanbul are Arabs and tourists in general, so there are always dedicated offers to keep the spotlight on this mall to find the tourist time after time and every visit is doing something new attractive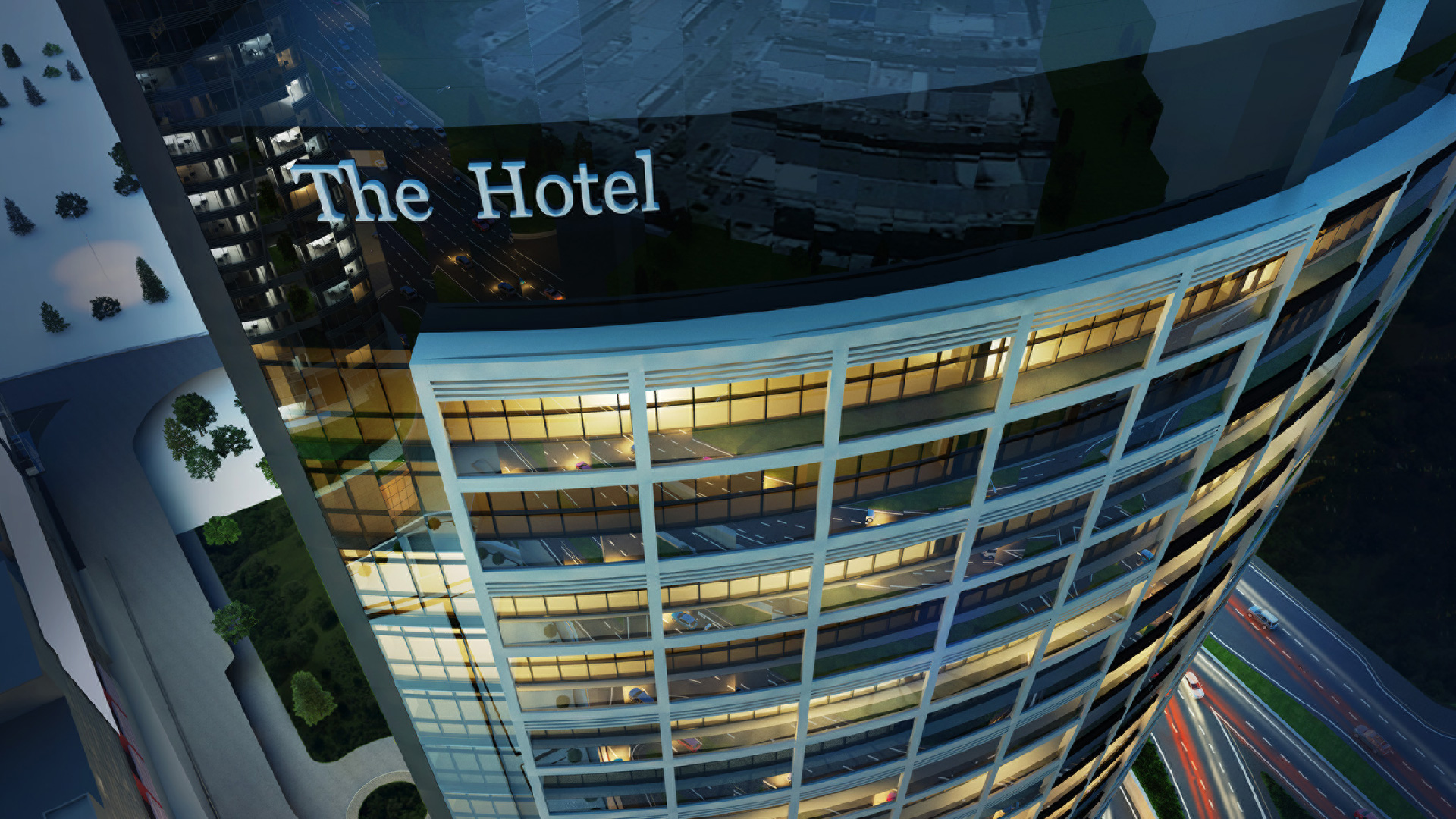 Some of the brands that are in the mall of Istanbul
LTB
AKER
DESA
DEBENHAMS
Avea
B&G Store
Calzedonıa
Geoff Geick
KARACA
Twiggy
Zain
Barakat Donner
Bernardo
Pemex
Epicule
ALTINBASH
Roman
Toys Shop
Asus
Dichman
Ivor
Kogak Gold
DS Damat
Arish
Atalar
Giovanni gentel
Deffacto
Jarkal
Brand Rom
Flo
Bambi
Adidas
decathlon
atasay
D&R
Atasun Optik
Burger King
Arby's
Benetton
Bershka
Lufian
Altınyıldız
Arçelik
Balon Evi
Bosch
Camper
Clarks
Derimod
Dufy
Aldo
Arzu Kaprol
Bisse
Dockers
Apple
Eczane
678 aksesuar
abbate
Abc mobilya-furniture design
adore lego
Aldar restoran
Aziz Bebe
Barnies
Bay Döner
Beeves
Biev
Big Chefs
Bind Çikolata
Bowling
Brn Yatak
Build A Bear
Buldumbuldum
Campione
Caribu Coffe
Carnavale
Cesars Erkek Giyim
Chima
Coffe Shop Comp
Colins
Cosmo Home
Çıtır Usta
Çiçek Izgara
Dilek Pastanesi
Dipndip
Dore Müzik
Dry Coner
Ebebek
Enplus
If you are interested in real estate investment in basen Express, Istanbul's first investment destination in 2018, you will find the following opportunities:
Advantages:
+ Invest in a guarantee from Rotana International and an annual investment return of at least $ 20,000
+ The location of the distinctive project close to the means of transport, commercial centers, highways and the headquarters of international companies
+ Kitchen equipped with all the facilities and services that provide you with a full and happy life
+ The project is near the famous Mall of Istanbul and is the largest mall in Turkey
Advantages:
+ The location of the distinctive project on the bassen Express road connecting the most important highways E5 and TEM
+ Luxury life offers you this project with its distinctive appearance and gives you comfort with a ceiling height of 3.10 meters
+ bassen Express is the link between old and modern Istanbul and the gathering area of ​​international companies, hotels and businessmen
Advantages:
+ Modern architectural design in the shape of a triangle to ensure the greatest benefit of daylight
+ The highest tower in the bassan Express road 150 meters high, which will add to the project a touch of prestige and prestige
+ Whether your goal is housing or investment, this project is suitable because it includes apartments and investment hotel
Advantages :
+ Modern architectural design in the form of a triangle to ensure the greatest benefit of daylight by the world designer Philippe Starck
+ The highest tower in the bassan Express road 150 meters high, which will add to the project a touch of prestige and magnificence
+ The Chinese wanda quality standards have been adopted to provide a unique experience for local and international hotel guests
Advantages:
+ Project location in the heart of Istanbul near the city center, airport, transportation and all services
+ Wide options fit all desires as available in the project residential apartments and offices for work
+ The project offers a peaceful and luxurious lifestyle despite its proximity to the city center
Advantages:
+ The project site is on the basen Expressway and is the best place to invest in Istanbul
+ The project is equipped with the concept of home and office together, so you can live or work in the same place
+ Modernity and luxury are a prominent feature in every corner of this project
Advantages:
+ Location of the distinctive project on the basen Expressway very promising in the field of real estate investment
+ The project is in the concept of accommodation / work, so you can choose the style that suits you
+ Wide options ranging from 40 square meters to 215 square meters with prices starting at $ 60,000
Advantages:
+ The ideal location of the project in the area of ​​Gonesli near the Passen Express This area is very promising in real estate investment
+ Near the project of Passan Express means that access to other highways E5 and TEM is easy and thus access to Istanbul airports or any other point will be a walk
+ The project is located near the park of a metro station and the other station is only 70 meters away and therefore there will be no problem moving if the roads are crowded
+ Materials used in the construction of the first type in addition to providing each apartment with a private balcony
+ Houses equipped with smart systems to give you a high degree of safety and comfort
For More Informations Please Fill This Form